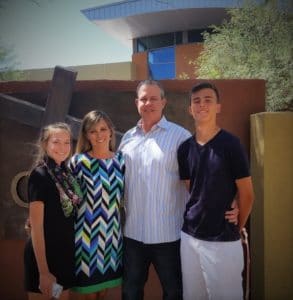 Mark Stewart, Chandler Arizona City Councilman
Hello. I am Mark Stewart and I want to thank you for taking the time to research candidates for your Chandler City Council. I, too have an active interest in Chandler's future and ensuring the best people are elected for Chandler City Council.
I am Mark Stewart, a father, a husband, a small business owner, and a proud resident of Chandler for over 20 years. My wife Allison and I moved to Chandler in 2001 and we watched our city grow into an amazing community with strong values and a commitment to excellence.
Spending my time focused on my family, spiritual and business growth is important and now I am giving back through true public service. City Council is something I love to do and I appreciate the confidence the community has put in me to help.
Every community needs statesmen acting on behalf of citizens. I am committed to creating success for Chandler, and many new opportunities in our community.
Professionally, I earned my Bachelors of Science Degree in Communications from Missouri State University. I have spent twenty years building my career. I took successive roles with increasing responsibility, building brands, and developing business with Fortune 50 organizations like Energizer/Playtex and Shell Lubricants. About seven years ago my entrepreneurial spirit took over, and I found my calling. I am part of three businesses and my main business is Concept2Completion LLC a digital marketing and startup success company.
I am also a founding partner of a snow ski industry product called Karvtrak – Alpine Performance System and a cosmeceutical brand called Covita Health.
My professional success is based on integrity, tenacity, and believing in a customer-first approach. These are qualities I bring in service to our city. The entrepreneurial free-market approach to development and growth is important, I am always mindful of the fact that government can create and ecosystem for business, but it is entrepreneurs, business owners and employees that create opportunity. I am committed to enhancing our vibrant business community, and helping to attract new companies to Chandler.
I am committed to being a true public servant who puts the needs of Chandler residents first.
Personally, I have been married to my college sweetheart, Allison, for 20 years. We have two children, ages 16 and 17 and both attend Chandler public schools. We moved to Chandler from the Midwest 17 years ago. Our intention was to stay two or three years, before moving back to the Midwest. It wasn't long before we fell in love with Chandler, and couldn't imagine calling somewhere else home. I volunteer as a youth sports coach and support local charities like ICAN. Our family attends Central Christian Church.
Politically, I am a firm believer in the rights of the individual as outlined in both the constitution. I never imagined myself as a politician, but I recognize that "politics as usual" is not helping our national community. Few politicians are driven to serve. I know that to effect change I needed to be involved in the process.
As your councilman, I pledge to ask on every appropriate occasion:
"Is there a way this can be solved with less government?"
I will use my business acumen and belief in the overriding principles of the Constitution to serve the city of Chandler.
Many people want to "BE" a councilman, but few want to "DO" the work.
I humbly ask for your support.